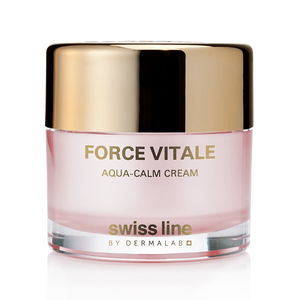 The Aqua-Calm Cream is a nurturing velvety soft cocoon-like cream. It's paraben-free formulation with an allergen-free fragrance. This cream will help to relieve all skins that are fragile, stressed or re-active . The inclusion of aqua-green skin-friendly pigments creates an optical colour correction, cooling the skin and promoting a more even skin tone. Sure to become the year-round favorite for people with sensitive skin. 
How to use: Apply in the am and in the pm, alone, or after applying your specific Swiss line serum
Ingredients: SOOTHING COMPLEX, ANTI-REDNESS COMPLEX, PLANT CERAMIDES, ALPINE BIO EXTRACTS.