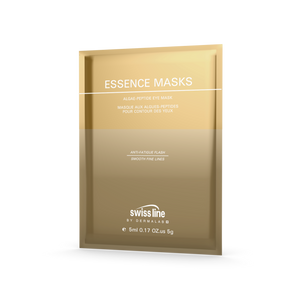 Completing our eye care expertise, this new generation of "beauty on the spot" solutions offers a new way to think about skincare – in the moment (instant flash) and in the long term (cosmetic boosting treatment). Generously infused with marine collagen peptides, this eye mask will help the fragile skin around the eyes to improve its density and resilience. Algae peptides work alongside collagen to improve the skin's capacity to retain its hydration, while Caffeine extracts provide an instantaneous power boost to reduce the appearance of puffiness. Give yourself a new look with the eye area looking refreshed, firm, smooth and de-congested.
How to Use: Remove the two masks from the sachet and place gently underneath the bottom lashes. Once set, remove the blue film and smooth the mask making sure there are no air pockets. Leave on for 15-20 minutes and relax. Remove and discard. If there is any liquid left on the skin gently pat in it. Apply when needed, on a perfectly cleansed face and eye area. Follow with your daily eye care or eye mask cream for additional eye contour regeneration.
Ingredients: algae peptides, Caffeine, vitamins, minerals, amino acids, polysaccharides, and lipids.