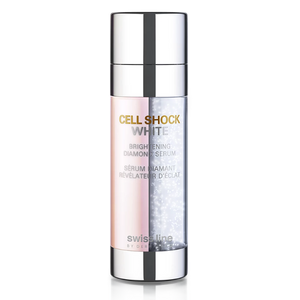 Offering double the efficacy of other serums of its kind, the see-through chamber houses an award-winning Peptide that instantly smoothes wrinkles and real Diamond Clusters for a radiant complexion. The ingredients of the pearlescent rose serum, with regular use, help address uneven complexions and reduce the appearance of age spots.
How to Use: Apply all year around after CSW FACIAL CLEANSING FOAM and CSW FACIAL BRIGHTENING-ESSENCE and before CSW DAYTIME BRIGHTENING-POWER EMULSION or CSW OVERNIGHT BRIGHTENINGPOWER CREAM. Gently press on the middle of the pump to deliver both formulas simultaneously to the palm of the hand. Mix both formulas and smooth over the face, paying particular attention to avoid the immediate eye area. The use of a high CSW SPF during the day is highly recommended.
Ingredients: micronized diamonds, peptide, Cellactel 2, Arbutin, Glutathione, Ascorbic Acid, ascorbyl palmitate, Garden Cress Sprouts, vitamins C and E, Genistein.