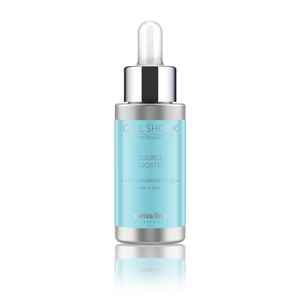 A source of all things good for a younger-looking skin. Reducing the appearance of lines and wrinkles while smoothing and soothing, this hyaluronic acid booster is the source of all things good for younger-looking skin. A real powerhouse, it is fortified with hyaluronic acid, a renowned moisturizing agent; Natural Moisturizing Factor (NMF), which helps to protect the skin's moisture barrier. Like the other Age Intelligence Boosters, it has been formulated to mix into anything we can call skincare.
How to Use: Source Booster can be applied am and/or pm as needed, mixed in the palm of the hand with the Recovery Serum for maximum results, or directly in your usual cream for a boost. 2-3 drops are enough, more can be used if needed. For immediate skin conditioning effect, it can also be mixed-in any fluid or cream make-up, CC creams or make-up primers for additional plumping benefits.
Ingredients: Hyaluronic Acid 1.5%, sodium PCA, sodium lactate, arginine, aspartic acid, PCA, glycine, alanine, serine, valine, proline, threonine, isoleucine, histidine and phenylalanine, adenosine triphosphate.