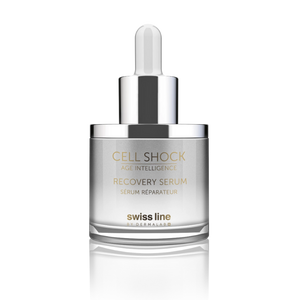 Launched almost 10 years ago, the Swiss line Intelligence, a new generation of skincare focus on the awakening of youth rather than anti-aging.  CELL SHOCK AGE INTELLIGENCE ™ offers a care solution to women who have undergone or plan esthetic procedures, moisturizing formula protects against urban stress - stress, jet lag, sleepless nights, and more which contribute to the premature aging of the skin caused by the drying of it.
How to Use: Apply a few drops over face and neck before your usual skincare, and after cleansing an toning.
Ingredients: Cellactel 2 complex, Madecassoside, Ronacare, Ectoin, glycine, alanine, proline, serine, arginine, lysine and glutamic acid.