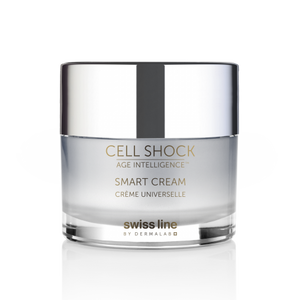 VITALITY – DE-STRESS – NON STOP MOISTURE
It looks like a whipped-gel, but feels like a water-cream! Totally skin friendly, it will delight all who prefer lightness and love to play the 'new mixing' game adding drops of one or more of 5 boosters.
How to Use: Massage a small amount of Smart Cream in circular movements. Enjoy this fresh experience every morning and night after the usual skincare regimen of cleanser and toner. For maximum, tailored results, use in combination with one or more AI Boosters. The boosters can be mixed-in the Smart Cream directly, or in the serum prior to the cream, should the client use a serum. Avoid direct contact with the eyes. If irritation persists, discontinue use and consult a physician.
Ingredients:  Centella asiatica, Ectoine, adenosine triphosphate 2%, sodium PCA, sodium lactate, arginine, aspartic acid, PCA, glycine, alanine, serine, valine, proline, threonine, isoleucine, histidine and phenylalanine.