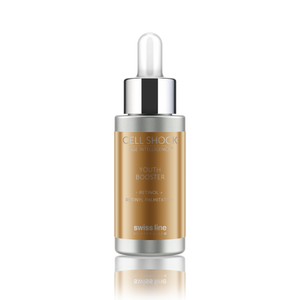 ANTI-WRINKLES – REVITALIZATION
The all-time star ingredient Retinoid to reduce the appearance of wrinkles and discoloration. It combines different forms of next-generation retinoid and a smart delivered capsule system to help to reduce visible signs of age. The pure retinol level used in the formula is 0.4%.

How to Use: Youth Booster should be applied pm only, mixed in the palm of the hand with the Recovery Serum for maximum results, or directly into your usual cream for a boost. For more intensive effect, it can be applied directly to the skin prior to the Recovery Serum or to the cream, and allowed to penetrate before layering the next product (only for those who have used Retinol for extended periods of time). The use of a high SPF during the day in imperative. Avoid contact with eyes. If irritation persists, discontinue use and consult a physician.

Ingredients: Pure Retinol, cyclodextrin, pamitic acid.