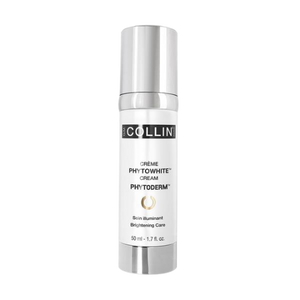 Formulated with peptides, botanical extracts, and natural amino acids, this divinely textured cream; Visibly improves pigment distribution in the skin, illuminates the skin, is hydroquinone-free.
How to Use:
After the G.M. Collin cleanser, mist and concentrate, apply a thin layer of cream to the entire face. To optimize results, apply after PhytoWhiteTM Serum. If used with PhytoWhiteTM Serum, you must follow with an appropriate sun protection before sun exposure.
Frequency: Morning and/or evening.
Ingredients: L-Ascorbic Acid 2-Glucoside, Tetrahexyldecyl Ascorbate, Oiligopeptide-34, Sulforawhite, L-Ergothioneine, Niacinamide, Brassica Napus Extract, Soy Isoflavone, Pichia/Resveratrol Ferment Extract