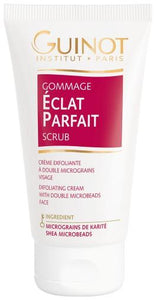 Gommage Eclat Parfait uses double microparticles that simultaneously remove dead cells from the skin's surface while encouraging cell renewal and preparing skin to soak up treatment products (moisturizing, anti aging, anti-acne, etc).
Unlike harsh scrubs, the silky and creamy exfoliator is enriched with fatty essential acids that instantly comfort and protect the skin. In addition to prepping skin to receive other products, exfoliating will unclog pores and smooth one's face. Can be used on all skin types
How to Use: Apply once or twice a week to a damp face and neck, taking care to avoid the eye contour area. Using the fingertips, rub with light circular movements then rinse with water.
Ingredients: Shea microparticles, Sweet almond oil, Liposkin