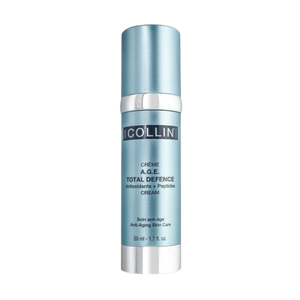 The A.G.E. Total Defence Cream is an anti-aging moisturizer combining 8 antioxidants and 5 peptides to combat all visible signs of aging.It helps restores the skin's natural resiliency and elasticity, brightens the complexion and evens out the skin tone and texture.
How to Use:
After the G.M. Collin cleanser, mist and concentrate, apply the quantity best suited for individual skin absorption. Avoid contact with eyes.
Frequency: Morning and evening.
Ingredients: Polyphenols of Castanea Sativa, White Birch Extract, Eukarion 134, Vitamins E&C, Palmitoyl Pentapeptide-3, Palmitoyl Oligopeptide, Rice Peptides, Carnosine, Scavenol NDGA, Coenzyme Q10, Melon Extract