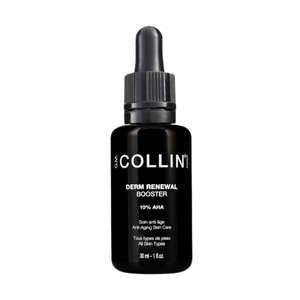 This skin resurfacing booster for dull, tired complexions: Reveals the next layer of skin for a more healthy glow. Visibly refines skin texture, improves its clarity and unveils a glowing, flawless-looking complexion. Is an ideal boost to add to the effects of all G.M. Collin anti-aging products.
How to Use:
Apply at night for 1 month. Use 2 times per year.
Warning: Do not use in combination of the Derm Renewal Cream. Use of this product may make your skin more sensitive to the sun. Apply a sun protection before sun exposure while using this product and for a week afterwards. 
Ingredients: 7% Glycolic Acid, 3% Lactic Acid, Salicylic Acid, Skin Resurfacing Complex (Oligopeptide), Niacinamide